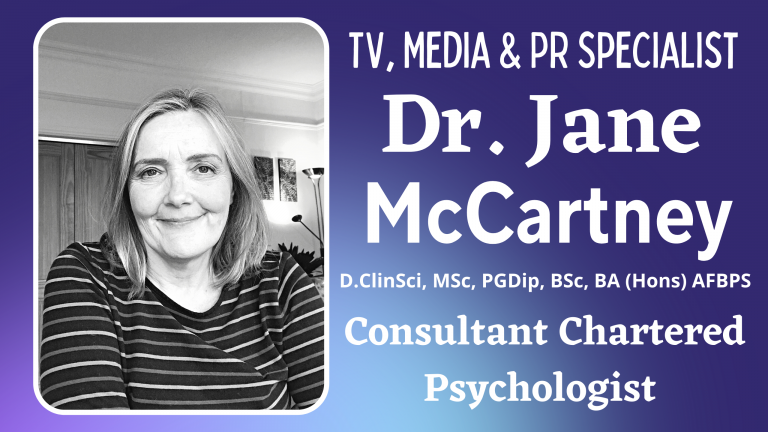 Dr. Jane McCartney is a Chartered Consultant Psychologist, TV Expert, Youtuber, Podcaster, Media Contributor, PR Specialist, & Author.
TV
Dr. Jane is recognised as a qualified leading expert in human behaviour, TV & lifestyle psychologist. Jane is available for television production companies, publications and corporate clients for expert psychological analysis, news reviews and guest appearances.
Youtube & Podcast
Dr. Jane has worked for the courts and legal authorities in the UK and has a dedicated Youtube channel exploring the minds and behaviours of killers, psychopaths and narcissists. Dr. Jane also produces a popular true crime podcast Why Killers Kill – Analysis Of Murder.
Magazine
Jane contributes regular psychological analysis for weekly publications including Closer and Bella magazines and is a frequent popular expert contributor for Crime Monthly magazine.
PR
Dr. Jane's unique psychological insights have been a great assets for both PR & businesses. Corporate brands have included Virgin Holidays, Nationwide, The Bic Brand, Unilever Clydesdale Bank and Microsoft.
Author
Dr. Jane's –Stop Overeating: The 28 Day Plan to End Emotional Eating was a Amazon international best seller.
Doctor Of Clinical Science (Psych)
University of Kent, Kent Institute of Medicine & Health Sciences- Division of Psychiatry
London Metropolitan University
PG Dip / D.CPsych.
London Guildhall University
MSc. C.Psych.
London Guildhall University
PG Dip Psych
University of Kent,  Christchurch College
BA (Hons) Psychology /Rel.S
British Psychological Society
Chartered Psychologist
Associate Fellow BPS
 Health and Care Professions Council
Registered Licenced Psychologist